THE AMERICAN SOLDIER: 1774-2015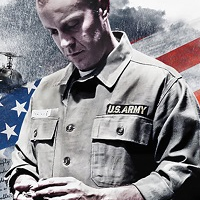 Reserved Seating Tickets:
$19.50 plus a per-ticket processing fee of $2.50
FREE for military veterans and active duty service members (at box office window only)
SAT, MAY 28, 2022

The American Soldier is actor Douglas Taurel's unique solo performance based upon actual accounts and letters written by veterans and their families from the American Revolution through current day Iraq and Afghanistan wars. It strives to help us understand why it is so difficult for many veterans to re-enter civilian life when they come home after experiencing combat, and examines the incredible sacrifices made by our service members and their families.
New Date
:
The American Soldier 1774–2015
– previously scheduled for Saturday, Apr 24, 2021 – has been rescheduled to Saturday, May 28, 2022, due to the novel coronavirus pandemic. All tickets from the originally-scheduled show will be honored by the Virginia Theatre on the new date. This includes tickets currently on hold at WILL CALL, print-at-home tickets, and also original printed tickets.
Any patron unable to attend the new rescheduled date may request a full refund by emailing virginia@champaignparks.org or by calling 217/356-9063. Deadline for Refunds is Friday, April 1, 2022.
---
Douglas Taurel's
The American Soldier
has been nominated for an Amnesty International Award and has been performed at the Kennedy Center, among countless other venues.
In its brief 75 minutes, Mr. Taurel enters into the personas of 14 veterans and their family members, telling their story of courage and sacrifice.
The American Soldier
exposes their scars, with both darkness and humor. It's a journey through the American story with moments that
resound with lasting meaning for both audiences old enough to remember, and those young
enough to yearn for inspiration.
--
"This play is such a wonderful play and a powerful voice for Veterans and gives our Veterans a voice" -
Dan Lauria
(Star of the TV Series The Wonder Years)
" A relevant drama... many are in tears and asking why this play isn't better known."
-
Peter Marks, The Washington Post


--
For more, visit
theamericansoldiersoloshow.com


A VT SERIES EVENT



FACE MASKS OPTIONAL

In accordance with
guidance
from Governor JB Pritzker and the Illinois Department of Public Health, beginning February 28, 2022, the wearing of face masks is considered optional in Champaign Park District facilities, including the Virginia Theatre.
Patrons are still welcome to wear a face mask while at the Virginia, and the theatre will continue to provide complimentary masks to those who wish to wear them.
In response to the COVID-19 pandemic, the Champaign Park District has implemented the following mitigation practices at the Virginia Theatre in accordance with guidelines set by federal, state, and local public health authorities:
• Additional cleaning and disinfecting, with a focus on touch surfaces, door knobs and push plates, railings, auditorium seating, restroom facilities, and countertops.
• Touchless hand sanitizing stations are located throughout the Theatre's lobbies and work spaces for use by patrons, volunteers, staff, and production personnel.