THE MOTH MAINSTAGE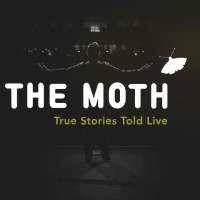 Reserved Seating Tickets:
$22.50/$32.50/$42.50
Plus a per-ticket processing fee of $3
SAT, OCT 8, 2022

Since its 1997 launch in NYC, The Moth has presented thousands of stories told live on stage, without scripts, notes, props, or accompaniment.
Moth shows are renowned for the great range of human experience they showcase—each show starts with a theme, and the storytellers explore it, often in unexpected ways. Since each story is true and every voice authentic, the shows dance between documentary and theater, creating a unique, intimate, and often enlightening experience for the audience.

THE MOTH Mainstage – previously scheduled for Saturday, October 9, 2021 – is being presented on Saturday, October 8, 2022, at 7:30pm.
All tickets from the originally-scheduled show(s) will be honored by the Virginia Theatre on the new date. This includes tickets currently on hold at WILL CALL, print-at-home tickets, and also original printed tickets.

Any patron unable to attend the new rescheduled date may request a full refund by emailing virginia@champaignparks.org or by calling 217/356-9063.
PLEASE NOTE: The deadline for all refund requests for THE MOTH Mainstage is August 1, 2022, at 5:30pm.


---
The Moth
has an enthusiastic national following, with a podcast that's downloaded over 30 million times annually, and, each week, the Peabody Award-winning
Moth Radio Hour
is heard on over 400 radio stations worldwide.
The Moth's
first book,
The Moth: 50 True Stories
was an
NYT
Bestseller.
The Moth's
second book,
The Moth Presents All These Wonders: True Stories about Facing the Unknown
was published in 2017.
The ideal way to experience
The Moth
is live and in person, where you can feel the electricity in the room and be a part of the visceral dialogue between teller and audience.
May include adult subjects/language – for mature audiences
For more, visit
themoth.org

A VT SERIES EVENT


FACE MASKS OPTIONAL
In accordance with
guidance
from Governor JB Pritzker and the Illinois Department of Public Health, beginning February 28, 2022, the wearing of face masks is considered optional in Champaign Park District facilities, including the Virginia Theatre.
Patrons are still welcome to wear a face mask while at the Virginia, and the theatre will continue to provide complimentary masks to those who wish to wear them.
In response to the COVID-19 pandemic, the Champaign Park District has implemented the following mitigation practices at the Virginia Theatre in accordance with guidelines set by federal, state, and local public health authorities:
• Additional cleaning and disinfecting, with a focus on touch surfaces, door knobs and push plates, railings, auditorium seating, restroom facilities, and countertops.
• Touchless hand sanitizing stations are located throughout the Theatre's lobbies and work spaces for use by patrons, volunteers, staff, and production personnel.