THE ULTIMATE ELVIS TRIBUTE ARTISTS EXPERIENCE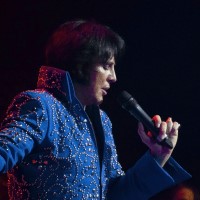 Reserved Seating Tickets:
$20/$35/$45/$50/$55/$65
Add'l per-ticket processing fees apply: $3-$5
SAT, NOV 27, 2021

The Virginia Theatre is re-opening, live performances are going to resume, and Dynasty Entertainment LLC is excited to be bringing The Ultimate Elvis Tribute Artist Experience to Champaign. So get ready to rock as The Ultimate Elvis Tribute Artist Experience brings their high-octane show to town!
DYNASTY ENTERTAINMENT LLC
presents
Elvis Presley Enterprises
The Ultimate Elvis Tribute Artists Experience
Shawn Klush and Cody Ray Slaughter
and featuring
The Nashville Dreams
and
The Fabulous Ambassadors
Featuring Shawn Klush: actor, entertainer, recording artist and Elvis Presley Enterprises first-ever Ultimate Elvis Tribute Artist. With Cody Ray Slaughter, Elvis Presley Enterprises' youngest-ever Ultimate Elvis Tribute Artist performing the middle years of the King.
Shawn Klush
is the closest that anyone will ever get to the real King - the total package with all of the mannerisms, sense of humor, looks, facial expressions, movements and voice all executed to perfection. A must see for any Elvis fan. Klush is the world's most successful Elvis tribute artist of all time.
Cody Ray Slaughter
has been tagged as one of the most talented young actors, singers and recording artists in the country. Born and raised in Harrison, Arkansas, Cody began entertaining at the young age of 13. His passion for Elvis' music and his uncanny resemblance to the King of Rock 'n Roll directed his career path.
Performing Elvis' Triumphant '68 Comeback, Cody Ray has performed throughout the USA, across Canada, the UK, and Australia. His uncanny portrayal of Elvis Presley exhibits his amazing love for the man he calls "the greatest entertainer of all time". Cody was the youngest performer ever to be named the Ultimate Elvis Tribute Artist by Elvis Presley Enterprises.
* * *
Now is your chance to experience what it might have been like to see and hear Elvis perform live on stage and at the same time honor the greatest entertainer the world of rock 'n roll has ever known. Come celebrate the music, life, and legacy of Elvis Presley in this family-friendly show. See Elvis as you've never seen him before and introduce the wonderful music of the King to your children, grandchildren, and friends!

NOTICE: FACE MASKS ARE REQUIRED AT THE VIRGINIA THEATRE
On Thursday, August 26, 2021, Illinois Governor Pritzker announced an
Executive Order
that all individuals age 2 and up who are medically able are required to wear a face mask while indoors in public settings, regardless of vaccination status.
Please note that, per the Order, individuals may remove face masks while eating or drinking
.
For more, please visit
this page
.
Please note
: Dynasty Entertainment, LLC, will be donating $1 from the sale of each ticket to this show to the Developmental Services Center of Champaign, Illinois.