THE ROYAL TENENBAUMS (2001)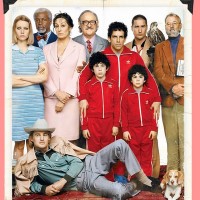 General Admission Tickets:
$6 plus a per-ticket processing fee of $1
WED, MAR 23, 2022

THE ARTHOUSE EXPERIENCE
Film Series

This new series brings the best of recent Arthouse movies to the Virginia's big screen.



THE ROYAL TENENBAUMS (2001)
Rated R
110 Min
Royal Tenenbaum and his wife Etheline had three children and then they separated. All three children are extraordinary --- all geniuses. Virtually all memory of the brilliance of the young Tenenbaums was subsequently erased by two decades of betrayal, failure, and disaster. Most of this was generally considered to be their father's fault. "The Royal Tenenbaums" is the story of the family's sudden, unexpected reunion one recent winter.
Stick around after the screening for a post-movie discussion with Angela Aguayo, Associate Professor in the Department of Media and Cinema Studies at the University of Illinois and director of the Illinois Community Media Project.
THE ARTHOUSE EXPERIENCE Film Series
Arthouse movies are "limited" release, high quality films that have stolen the hearts and captured the imaginations of moviegoers everywhere.
Guest curator Sanford Hess selected these films as a mix of award-winners, Ebertfest favorites, and recent classics. Screened once a month – watch our website for details.
FACE MASKS OPTIONAL

In accordance with
guidance
from Governor JB Pritzker and the Illinois Department of Public Health, beginning February 28, 2022, the wearing of face masks is considered optional in Champaign Park District facilities, including the Virginia Theatre.
Patrons are still welcome to wear a face mask while at the Virginia, and the theatre will continue to provide complimentary masks to those who wish to wear them.
In response to the COVID-19 pandemic, the Champaign Park District has implemented the following mitigation practices at the Virginia Theatre in accordance with guidelines set by federal, state, and local public health authorities:
• Additional cleaning and disinfecting, with a focus on touch surfaces, door knobs and push plates, railings, auditorium seating, restroom facilities, and countertops.
• Touchless hand sanitizing stations are located throughout the Theatre's lobbies and work spaces for use by patrons, volunteers, staff, and production personnel.