BIG NIGHT (1996)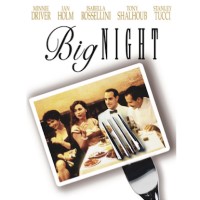 General Admission Tickets:
$6 plus a per-ticket processing fee of $1
WED, APRIL 6, 2022

THE ARTHOUSE EXPERIENCE
Film Series

This new series brings the best of recent Arthouse movies to the Virginia's big screen.



BIG NIGHT (1996)
Rated R
109 Min
Chef Primo (Tony Shalhoub) and businessman Secondo (Stanley Tucci) are immigrant brothers from Italy who open their dream restaurant, Paradise, in New Jersey. However, Primo's authentic food is too unfamiliar for the local tastes, and the restaurant is struggling. When famous Italian-American bandleader Louis Prima is scheduled to appear at Paradise, the two brothers put all of their efforts into the important meal, which will likely decide the fate of their restaurant.
THE ARTHOUSE EXPERIENCE Film Series
Arthouse movies are "limited" release, high quality films that have stolen the hearts and captured the imaginations of moviegoers everywhere.
Guest curator Sanford Hess selected these films as a mix of award-winners, Ebertfest favorites, and recent classics. Screened once a month – watch our website for details.


FACE MASKS OPTIONAL
In accordance with
guidance
from Governor JB Pritzker and the Illinois Department of Public Health, beginning February 28, 2022, the wearing of face masks is considered optional in Champaign Park District facilities, including the Virginia Theatre.
Patrons are still welcome to wear a face mask while at the Virginia, and the theatre will continue to provide complimentary masks to those who wish to wear them.
In response to the COVID-19 pandemic, the Champaign Park District has implemented the following mitigation practices at the Virginia Theatre in accordance with guidelines set by federal, state, and local public health authorities:
• Additional cleaning and disinfecting, with a focus on touch surfaces, door knobs and push plates, railings, auditorium seating, restroom facilities, and countertops.
• Touchless hand sanitizing stations are located throughout the Theatre's lobbies and work spaces for use by patrons, volunteers, staff, and production personnel.