MAD MAX BEYOND THUNDERDOME (1985)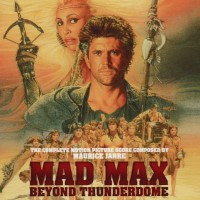 General Admission Tickets:
$6 plus a per-ticket processing fee of $1
MON, MAY 23, 2022

REWIND 92.5 MOVIE SERIES: BAD MOVIE MONDAY

Catch the most memorable movies of the 80's, 90's, and today with the good folks from Rewind 92.5 FM!
MAD MAX BEYOND THUNDERDOME (1985)
Rated PG-13
107 Min
In the third of the "Mad Max" movies, Max (Mel Gibson) drifts into an evil town ruled by Turner. There he becomes a gladiator and gets dumped in the desert where he is rescued by a band of feral orphans who have been looking for help for years. When several of them take his appearance as a sign and go off into the desert, he follows them back to the town.
REWIND 92.5 MOVIE SERIES: BAD MOVIE MONDAY
We're celebrating everything from the films of John Hughes and Kevin Bacon to more contemporary fare. Screened once a month.
FACE MASKS OPTIONAL

In accordance with
guidance
from Governor JB Pritzker and the Illinois Department of Public Health, beginning February 28, 2022, the wearing of face masks is considered optional in Champaign Park District facilities, including the Virginia Theatre.
Patrons are still welcome to wear a face mask while at the Virginia, and the theatre will continue to provide complimentary masks to those who wish to wear them.
In response to the COVID-19 pandemic, the Champaign Park District has implemented the following mitigation practices at the Virginia Theatre in accordance with guidelines set by federal, state, and local public health authorities:
• Additional cleaning and disinfecting, with a focus on touch surfaces, door knobs and push plates, railings, auditorium seating, restroom facilities, and countertops.
• Touchless hand sanitizing stations are located throughout the Theatre's lobbies and work spaces for use by patrons, volunteers, staff, and production personnel.