OPENING NIGHT COMMUNITY EVENT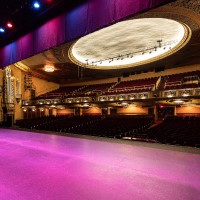 SAT, SEP 25, 2021

Join us at the Virginia Theatre for this very special community event, FREE TO ATTEND!!
Virginia Theatre 100th Anniversary Season
OPENING NIGHT COMMUNITY EVENT

- FREE ADMISSION FOR ALL, NO TICKET REQUIRED -


Saturday, September 25, 2021

5PM DOORS OPEN/LIVE PERFORMANCES BEGIN
7PM SILENT FILM/LIVE WURLITZER PERFORMANCE

Sponsored by The News-Gazette and The Silent Film Society of Chicago. Support by John-Paul Buzard Pipe Organ Works.


FEATURING

Street vendors:
Historic tours


Free popcorn and fountain drinks at our Concession Stand


Pop-up performances in the street and inside the theatre:
Owen Connor Stout & Mike McAndrew


Trio Bacana


And starring a special News-Gazette Film Series screening of:

STEAMBOAT BILL JR. (1928)
Featuring JAY WARREN, Wurlitzer Pipe Organ

Pre-screening sing-a-long with the Virginia's historic glass slides!

Steamboat Bill, Jr. is a 1928 classic silent comedy film starring the masterful Buster Keaton. The film, named after Arthur Collins's popular recording of the 1910 song "Steamboat Bill", was selected for preservation in the United States National Film Registry by the Library of Congress.

The picture is known for what may be Keaton's most famous stunt: the facade of an entire house falls all around him while he stands in the perfect spot to pass through the open attic window instead of being flattened.

Steamboat Bill, Jr. inspired the film title Steamboat Willie, Mickey Mouse's 1928 film debut.





JAY WARREN, Wurlitzer Organ
Chicago's foremost photoplay organist, Jay Warren brings all the color, excitement, and glamour of the silent film era back to life with his original scores for the silver screen. As a regularly featured photoplay organist for the Silent Film Society of Chicago, he has accompanied most of the great silent films throughout his forty year career in his famous rousing style.

Jay has been featured annually for the society's highly regarded Silent Summer Film Festival since its inception in 2000. He has appeared 14 times playing the huge E.M. Skinner pipe organ for silent films at the University of Chicago's famed Rockefeller Memorial Chapel. Mr Warren also performs film accompaniment on the beautiful Letourneau pipe organ in the Crimi Auditorium of Aurora University.

Jay has also made several silent film photoplay appearances on the incredible 5 manual Wurlitzer located at the Sanfilippo Foundation's Place de la Musique in Barrington, Illinois.