LUCINDA WILLIAMS and her band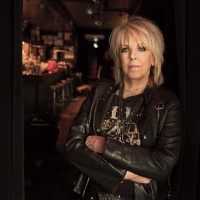 Reserved Seating Tickets:
$29.50/$39.50/$49.50/$75.00
Add'l per-ticket processing fees apply: $3.50-$7.00
TUE, FEB 15, 2022

"It's all come full circle," says Lucinda Williams about her powerful new album, Good Souls Better Angels. After more than forty years of music making, the pioneering, Louisiana-born artist has returned to the gritty blues foundation that first inspired her as a young singer-songwriter in the late 1970s.

And after spending the last year on her sold-out "Car Wheels on a Gravel Road" 20th Anniversary tour, Williams has reunited with that game-changing 1998 album's co-producer and engineer Ray Kennedy, recording
Good Souls, Better Angels
with her ace touring band at his Nashville studio.
Joining them as co-producer is Williams' manager Tom Overby, to whom she's been married for a decade and who contributed lyrics to her masterful songcraft. "That's what I always dreamed of – a relationship with someone I could create with," Williams enthuses.
The result –
Good Souls Better Angels
– is the most topical album of Williams' career. The dangerous world we live in, the constant barrage of a frightening news cycle, depression, domestic abuse, a man without a soul – and, yeah, the devil – figure prominently among its twelve tracks.
"The devil comes into play quite a bit on this album," Williams says. "I've always loved the imagery in Robert Johnson songs and those really dark Delta blues that are sort of biblical. I was inspired by Leonard Cohen – he dealt with that in his songs – and Bob Dylan and Nick Cave."
While
Good Souls, Better Angels
reflects many dark realities that surround us, the album is tied together with themes of perseverance, resilience and ultimately, hope.
As for the topicality of the material, Williams says, "Because of all this crap that's going on, it's on the top of everybody's minds – it's all anybody talks about: Basically, the world's falling apart – it's like the apocalypse. That's where that Old Testament stuff comes from. It's different from my other albums in that there aren't the story songs about my childhood and all. It feels exciting."
---
Lucinda Williams
has traveled a long road since her 1979 debut,
Ramblin' on My Mind
, followed by
Happy Woman Blues
, her first album of originals released forty years ago in 1980. (She says that she's still "the same girl" except that now "I have a bigger fan base and I can afford to stay at better hotels.")
Over the course of fourteen remarkable albums, three Grammy awards, and countless accolades, including Time's Songwriter of the Year of 2001, Williams is one of our most revered artists, beloved for her singular vocals and extraordinary songs. Her recent double albums,
Down Where the Spirit Meets the Bone
(2014) and
Ghosts of Highway 20
(2016), released on her own label, received some of the best reviews of her career.
For more, visit
lucindawilliams.com
.
Presented by True Endeavors.
One dollar per ticket sold to this concert will benefit the Eastern Illinois Foodbank
.
---
FACE MASKS REQUIRED AT THE VIRGINIA THEATRE
Per an Executive Order signed by Illinois Governor Pritzker on August 26, 2021, all individuals age 2 and up who are medically able are required to wear a face mask while indoors in public settings, regardless of vaccination status.
VIRGINIA THEATRE CONCESSIONS SUSPENSED
Please note that due to the recent increases in active COVID-19 cases in Champaign County the Virginia Theatre has suspended the sale of food and beverages, including liquor, at all public events.
Patrons may, if they choose, bring in a single bottle of water (20 oz or less) for consumption during an event, provided they resume wearing their mask after taking a drink. No other outside food or beverage items are allowed into the theatre.
The Virginia has taken these steps to help ensure that all individuals are wearing a mask at all times while inside the facility.
For more, please visit
this page
.
A VT SERIES EVENT