HERMAN'S HERMITS STARRING PETER NOONE with Jay Siegal & The Tokens and The New Colony Six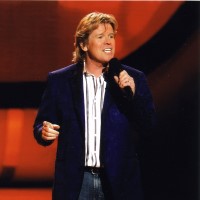 Reserved Seating Tickets:
$39/$49/$59/$79/$99
Add'l per-ticket processing fees apply: $3.50-$7.00
THU, MAY 19, 2022

Dynasty Entertainment LLC is excited to present 60's rock legends Peter Noone's Herman's Hermits and Jay Siegel's Tokens in their first-ever appearance together at the Virginia Theatre, Champaign, Illinois! Also appearing are Chicago's original garage band, The New Colony Six.

Dynasty Entertainment, LLC | The Legends of Rock n Roll series


Herman's Hermits starring Peter Noone
Peter Blair Denis Bernard Noone is a multi-talented entertainer who has been delighting audiences nearly all his life. He was born in Manchester, England, where he studied voice and acting at St. Bede's College and the Manchester School of Music and Drama. As a child, he played "Stanley Fairclough" in the long-running British soap opera Coronation Street and was also featured in the television series Knight Errant, Family Solicitor and Monro's Saki Stories.

At the age of only fifteen, Peter achieved international fame as "Herman", lead singer of the legendary pop band Herman's Hermits. His classic hits include "I'm Into Something Good", "Mrs. Brown, You've Got A Lovely Daughter", "I'm Henry VIII, I Am", "Silhouettes", "Can't You Hear My Heartbeat", "Wonderful World", "Just A Little Bit Better", "There's A Kind of Hush", "A Must To Avoid", "Listen People", "No Milk Today" "The End of the World" "Leaning On A Lamp Post", and "Dandy". Ultimately, Herman's Hermits sold over fifty-two million recordings. In all, fourteen singles and seven albums went gold.

Accompanied by his band, Herman's Hermits, Noone currently performs over 200 concerts a year, playing to sold-out venues and admirers that span the generations.

For more, visit hermanshermits.com.


JAY SIEGEL'S THE TOKENS
The multitalented Jay Siegel is best known for his soaring falsetto on the classic mega-hit, "The Lion Sleeps Tonight". Born in Brighton Beach, New York, a lifelong friendship with Neil Sedaka began when both attended Lincoln High School in Brooklyn where in 1955, Sedaka formed The Linc-Tones singing group. A year later, Siegel joined the Linc-Tones and the group name was changed to The Tokens. Siegel and Sedaka, along with fellow Tokens Cynthia Zolitan and Hank Medress, then recorded "While I Dream" and "I Love My Baby" for Melba Records.

A reformed Tokens group emerged in 1961 with Mitch and Phil Margo joining Medress and Siegel. The group quickly attained prominence with the hit song, "Tonight I Fell In Love."

In October 1961, they recorded what has become one of the biggest hit songs of all time, "The Lion Sleeps Tonight" (the song celebrated its 60th anniversary this year). One of the seminal songs of all times, it has enjoyed resurgence in multi-generational popularity thanks to its prominence in the long-running Broadway hit show, The Lion King. Other major hits for The Tokens include, "He's in Town", "I Hear Trumpets Blow" and "Portrait of My Love".

Jay Siegel and The Tokens have also produced many American pop classics, including The Chiffons, "One Fine Day" and "He's So Fine", Randy and the Rainbows, "Denise", Tony Orlando and Dawn's, "Candida", Knock Three Times", and "Tie a Yellow Ribbon", as well as "I Got Rhythm" and "See You in September" by The Happenings. Over the years, Jay Siegal and The Tokens have shared the stage with such greats as The Beatles, Chuck Berry, Little Richard and many others.

For more, visit jaysiegelstokens.com.


THE NEW COLONY SIX
The New Colony Six - the quintessential '60s Chicago garage band - launched the Chicago Rock Revolution and hit the local airwaves in November, 1965 (and the Cash Box charts in 1966). The New Colony Six charted 14 times nationally, including the hits, "Love You So Much", "Can't You See Me Cry", "I Will Always Think About You", "I Could Never Lie to You", "I'm Just Waitin' Anticipating for Her to Show Up", "Things I Like to Say", "I Confess", "Treat Her Groovy" and many others!

For more, visit newcolonysix.com.



NOTICE: FACE MASKS ARE REQUIRED AT THE VIRGINIA THEATRE
On Thursday, August 26, 2021, Illinois Governor Pritzker announced an Executive Order that all individuals age 2 and up who are medically able are required to wear a face mask while indoors in public settings, regardless of vaccination status.

Please note that, per the Order, individuals may remove face masks while eating or drinking.

For more, please visit this page.



A VT SERIES EVENT