HERMAN'S HERMITS STARRING PETER NOONE with Special Guests New Colony Six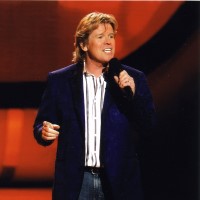 Reserved Seating Tickets:
$39/$49/$59/$79/$99
Plus a per-ticket processing fee of $3.50-$7.00
FRI, FEB 17, 2023

Dynasty Entertainment LLC is excited to present 60's rock legends Herman's Hermits starring Peter Noone with Special Guests, Chicago's original garage band, New Colony Six!
---
PLEASE NOTE: This concert event has been rescheduled from its original date of Thursday, May 19, 2022. Please also note that Jay Siegel & The Tokens will not be appearing at the rescheduled February, 2023 date.

All tickets purchased for the original concert event WILL BE HONORED at the Virginia Theatre on the new date of Friday, February 17, 2023.

Any patron who purchased a ticket to the original date but who is unable to attend the new date may request a full refund by calling 217/356-9063. THE DEADLINE FOR ALL REFUND REQUESTS IS FRIDAY, JUNE 17, 2022.
---
Dynasty Entertainment, LLC | The Legends of Rock n Roll series

Herman's Hermits starring Peter Noone
Peter Blair Denis Bernard Noone is a multi-talented entertainer who has been delighting audiences nearly all his life. He was born in Manchester, England, where he studied voice and acting at St. Bede's College and the Manchester School of Music and Drama. As a child, he played "Stanley Fairclough" in the long-running British soap opera Coronation Street and was also featured in the television series Knight Errant, Family Solicitor and Monro's Saki Stories.

At the age of only fifteen, Peter achieved international fame as "Herman", lead singer of the legendary pop band Herman's Hermits. His classic hits include "I'm Into Something Good", "Mrs. Brown, You've Got A Lovely Daughter", "I'm Henry VIII, I Am", "Silhouettes", "Can't You Hear My Heartbeat", "Wonderful World", "Just A Little Bit Better", "There's A Kind of Hush", "A Must To Avoid", "Listen People", "No Milk Today" "The End of the World" "Leaning On A Lamp Post", and "Dandy". Ultimately, Herman's Hermits sold over fifty-two million recordings. In all, fourteen singles and seven albums went gold.

Accompanied by his band, Herman's Hermits, Noone currently performs over 200 concerts a year, playing to sold-out venues and admirers that span the generations.

For more, visit hermanshermits.com.


NEW COLONY SIX
New Colony Six - the quintessential '60s Chicago garage band - launched the Chicago Rock Revolution and hit the local airwaves in November, 1965 (and the Cash Box charts in 1966). New Colony Six charted 14 times nationally, including the hits, "Love You So Much", "Can't You See Me Cry", "I Will Always Think About You", "I Could Never Lie to You", "I'm Just Waitin' Anticipating for Her to Show Up", "Things I Like to Say", "I Confess", "Treat Her Groovy" and many others!

For more, visit newcolonysix.com.


A VT SERIES EVENT



---

FACE MASKS OPTIONAL
In accordance with guidance from Governor JB Pritzker and the Illinois Department of Public Health, beginning February 28, 2022, the wearing of face masks is considered optional in Champaign Park District facilities, including the Virginia Theatre.

Patrons are still welcome to wear a face mask while at the Virginia, and the theatre will continue to provide complimentary masks to those who wish to wear them.

In response to the COVID-19 pandemic, the Champaign Park District has implemented the following mitigation practices at the Virginia Theatre in accordance with guidelines set by federal, state, and local public health authorities:

• Additional cleaning and disinfecting, with a focus on touch surfaces, door knobs and push plates, railings, auditorium seating, restroom facilities, and countertops.

• Touchless hand sanitizing stations are located throughout the Theatre's lobbies and work spaces for use by patrons, volunteers, staff, and production personnel.