KURTIS CONNER LIVE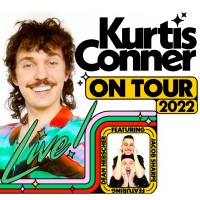 Reserved Seating Tickets:
$40/$65/$75
Plus a per-ticket processing fee of $4.50-$6.50

Tickets now on sale!

FRI, JULY 15, 2022

Sit back and enjoy a fun-filled night of stand-up comedy from YouTuber/podcaster/country music artist/mayor…Kurtis Conner. And please be nice to him! It's the law!
A sell-out performer, podcaster, and global YouTube sensation, Kurtis Conner is bringing his freshest, funniest material yet to the stage.
Kurtis Conner Live
will also feature Dean Hebscher and Jacob Sharpe.
Kurtis Conner is embarking on his most ambitious solo comedy tour ever. After studying comedy writing and performance in Toronto, Conner quickly found an audience on Vine, later migrating to YouTube and growing that audience to over 3.7 million subscribers worldwide. His 2016 stand-up record "Cuppla Jokes" reached number 6 on the Billboard comedy chart and number 1 on iTunes, while his videos regularly hit the top ten trending page on YouTube. Conner has previously appeared on stage alongside collaborators Danny Gonzalez and Drew Gooden. He hosts the "Very Really Good" podcast.
For more, visit:
Presented by
Outback
---
FACE MASKS OPTIONAL
In accordance with
guidance
from Governor JB Pritzker and the Illinois Department of Public Health, beginning February 28, 2022, the wearing of face masks is considered optional in Champaign Park District facilities, including the Virginia Theatre.
Patrons are still welcome to wear a face mask while at the Virginia, and the theatre will continue to provide complimentary masks to those who wish to wear them.
In response to the COVID-19 pandemic, the Champaign Park District has implemented the following mitigation practices at the Virginia Theatre in accordance with guidelines set by federal, state, and local public health authorities:
• Additional cleaning and disinfecting, with a focus on touch surfaces, door knobs and push plates, railings, auditorium seating, restroom facilities, and countertops.
• Touchless hand sanitizing stations are located throughout the Theatre's lobbies and work spaces for use by patrons, volunteers, staff, and production personnel.