DR. NO / GOLDFINGER (James Bond Double Feature)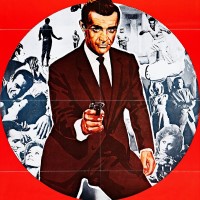 General Admission Tickets:
$7.00
SAT, SEPT 24, 2022

THE NEWS-GAZETTE FILM SERIES

Two stylish films starring Sean Connery as super-suave super-spy James Bond.
1 ticket is good for admission to both films, which will screen back-to-back at each showtime, with a brief intermission between titles.
DR. NO
Rated PG
110 Min
In the film that launched the James Bond saga, Agent 007 (Sean Connery) battles mysterious Dr. No, a scientific genius bent on destroying the U.S. space program. As the countdown to disaster begins, Bond must go to Jamaica, where he encounters beautiful Honey Ryder (Ursula Andress), to confront a megalomaniacal villain in his massive island headquarters.
GOLDFINGER
Rated PG
110 Min
The powerful tycoon Auric Goldfinger (Gert Fröbe) has initiated Operation Grand Slam, a cataclysmic scheme to raid Fort Knox and obliterate the world economy. To save the world once again, James Bond (Sean Connery), armed with his specially equipped Aston Martin, must stop the plan by overcoming several outrageous adversaries.
For 21 years,
The News-Gazette
has sponsored monthly screenings of the most beloved classic films at the Virginia Theatre.
The News-Gazette Film Series is
your
ticket to Hollywood's golden age! Add house organist David Schroeder performing on the Virginia's historic Hope Jones II Wurlitzer pipe organ before many shows, and you have an evening of entertainment fit for the whole family.
PLEASE NOTE: Due to the length of this double-feature presentation, the
News-Gazette
film critic Richard Leskosky will NOT be hosting a post-show talk after these films.
---
FACE MASKS OPTIONAL
In accordance with
guidance
from Governor JB Pritzker and the Illinois Department of Public Health, beginning February 28, 2022, the wearing of face masks is considered optional in Champaign Park District facilities, including the Virginia Theatre.
Patrons are still welcome to wear a face mask while at the Virginia, and the theatre will continue to provide complimentary masks to those who wish to wear them.
In response to the COVID-19 pandemic, the Champaign Park District has implemented the following mitigation practices at the Virginia Theatre in accordance with guidelines set by federal, state, and local public health authorities:
• Additional cleaning and disinfecting, with a focus on touch surfaces, door knobs and push plates, railings, auditorium seating, restroom facilities, and countertops.
• Touchless hand sanitizing stations are located throughout the Theatre's lobbies and work spaces for use by patrons, volunteers, staff, and production personnel.