THEY SHALL NOT GROW OLD (2019)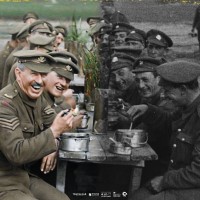 General Admission Tickets: $7


WED, NOV 9, 2022

THE ARTHOUSE EXPERIENCE FILM SERIES

Presented by
Illinois Public Media
, this exciting series brings the very best of recent art films and documentaries to the Virginia Theatre.

THEY SHALL NOT GROW OLD (2019)
Rated R
99 Min
A documentary about World War I with never-before-seen footage to commemorate the centennial of the end of the war.
Using state-of-the-art technology and materials from the BBC and Imperial War Museum, filmmaker Peter Jackson allows the story of World War I to be told by the men who were there. Life on the front is explored through the voices of the soldiers, who discuss their feelings about the conflict, the food they ate, the friends they made and their dreams of the future.
THE ARTHOUSE EXPERIENCE Film Series
Described as limited-release, high-quality titles that have captured the imagination of movie lovers, the Virginia Theatre's Arthouse Experience Film Series is programmed by special guest curator Sanford Hess.
The movies that Mr. Hess selects—a mix of award-winners, Ebertfest favorites, and recent classics—are presented one Wednesday each month on the Virginia's 52-foot wide movie screen, with state-of-the-art surround sound.
Each film will be followed by a post-show discussion and in some cases an on-stage talk by directors, producers, and other special guests. Presented by
Illinois Public Media
, home of WILL-TV, WILL-AM, and WILL-FM.
---

FACE MASKS OPTIONAL

In accordance with
guidance
from Governor JB Pritzker and the Illinois Department of Public Health, beginning February 28, 2022, the wearing of face masks is considered optional in Champaign Park District facilities, including the Virginia Theatre.
Patrons are still welcome to wear a face mask while at the Virginia, and the theatre will continue to provide complimentary masks to those who wish to wear them.
In response to the COVID-19 pandemic, the Champaign Park District has implemented the following mitigation practices at the Virginia Theatre in accordance with guidelines set by federal, state, and local public health authorities:
• Additional cleaning and disinfecting, with a focus on touch surfaces, door knobs and push plates, railings, auditorium seating, restroom facilities, and countertops.
• Touchless hand sanitizing stations are located throughout the Theatre's lobbies and work spaces for use by patrons, volunteers, staff, and production personnel.