TRAVIS TRITT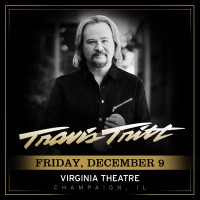 Tickets go on sale for the general public Fri, Aug 26, 2022 - at 10am.

Reserved Seating Tickets:
$49.50/$59.50/$79.50/$99.50
Plus a per-ticket processing fee of $5-$8



FRI, DEC 9, 2022

Enjoy a special evening with CMA and Grammy award-winning country artist, Travis Tritt!

This show, which will include Tritt's band, will give attendees an opportunity to hear some of the performer's biggest hits, including "T-R-O-U-B-L-E," "It's A Great Day to Be Alive" and "Best of Intentions."
Plan to sing along with Tritt's vast catalog of crowd favorites like "Modern Day Bonnie and Clyde" and "Here's a Quarter"—songs that have created a devoted fan base that continues to sell-out shows across the globe. Tritt will also perform favorites off his new album,
Set In Stone
, that was just released this year. Bringing his award-winning songs to life, the Grand Ole Opry member will leave the audience with a truly memorable experience.
Music has carried Travis Tritt on a lot of amazing adventures. From helping reunite the legendary Eagles to being mentored by such icons as Waylon Jennings, Kenny Rogers, and Charlie Daniels to becoming a member of the Grand Ole Opry, music has opened many doors that the talented Georgia native has boldly walked through and left his own indelible mark. And the adventure is far from over. With the release of
Set in Stone
, Tritt embarks on the next chapter of his stellar career armed with the distinctive voice, insightful songwriting, and outlaw edge that have served him well for more than three decades.
Mr. Tritt has won two Grammy Awards, four CMA Awards, and a Billboard Music Award for Top New Artist. Seven of Travis's albums have been certified platinum or higher, earning him more than 30 million in career album sales. He's scored five number one singles and 20 Top 10 hits. He's also expanded his creative resume' into acting with film and TV roles in
Rio Diablo
(1993),
The Cowboy Way
(1994),
Tales from the Crypt
(1995),
Sgt. Bilko
(1996),
Fire Down Below
(1997),
Outlaw Justice
(1999),
Touched By An Angel
(1999),
Blues Brothers
(2000),
Yes, Dear
(2004),
Brother's Keeper
(2013),
Forever My Girl
(2018), and more.
For more, visit:
---
FACE MASKS OPTIONAL
In accordance with
guidance
from Governor JB Pritzker and the Illinois Department of Public Health, the wearing of face masks is considered optional in Champaign Park District facilities, including the Virginia Theatre.
Patrons are still welcome to wear a face mask while at the Virginia, and the theatre will continue to provide complimentary masks to those who wish to wear them.
In response to the COVID-19 pandemic, the Champaign Park District has implemented the following mitigation practices at the Virginia Theatre in accordance with guidelines set by federal, state, and local public health authorities:
Additional cleaning and disinfecting, with a focus on touch surfaces, door knobs and push plates, railings, auditorium seating, restroom facilities, and countertops.


Touchless hand sanitizing stations are located throughout the Theatre's lobbies and work spaces for use by patrons, volunteers, staff, and production personnel.