MIRACLE ON 34TH STREET (1947)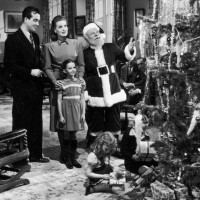 General Admission Tickets:
$7.00
SAT, DEC 17, 2022

THE NEWS-GAZETTE FILM SERIES


Rated NR
101 Min
After a divorced mother hires a kindly old gentleman to play Santa Claus at Macy's Department Store in New York City, she is startled by his claim to be the genuine article...
For 21 years,
The News-Gazette
has sponsored monthly screenings of the most beloved classic films at the Virginia Theatre.
The News-Gazette Film Series is
your
ticket to Hollywood's golden age! Add house organist David Schroeder performing on the Virginia's historic Hope Jones II Wurlitzer pipe organ before many shows, and you have an evening of entertainment fit for the whole family.
News-Gazette
film critic Richard Leskosky will be back this season following many 7pm
News-Gazette
screenings for a post-show talk about each film — in the Virginia lobby.
---
FACE MASKS OPTIONAL
In accordance with
guidance
from Governor JB Pritzker and the Illinois Department of Public Health, beginning February 28, 2022, the wearing of face masks is considered optional in Champaign Park District facilities, including the Virginia Theatre.
Patrons are still welcome to wear a face mask while at the Virginia, and the theatre will continue to provide complimentary masks to those who wish to wear them.
In response to the COVID-19 pandemic, the Champaign Park District has implemented the following mitigation practices at the Virginia Theatre in accordance with guidelines set by federal, state, and local public health authorities:
• Additional cleaning and disinfecting, with a focus on touch surfaces, door knobs and push plates, railings, auditorium seating, restroom facilities, and countertops.
• Touchless hand sanitizing stations are located throughout the Theatre's lobbies and work spaces for use by patrons, volunteers, staff, and production personnel.