2022 HOLIDAY CARD PHOTO OP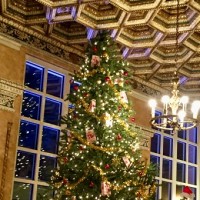 - FREE TO ATTEND -

Please call 217/356-9063 to reserve your 15-minute spot.



*

UPDATE - All Time Slots Filled!

*


NOV 21, NOV 28, and DEC 5, 2022
5PM-7PM

NOV 22, and NOV 29, 202211AM - 3PM
NEW DATES ADDED!
Call now to reserve a spot!
We're opening up the Virginia's beautifully decorated Mezzanine Lobby for photographs this holiday season, free of charge!
Bring your favorite camera or arrange to have a professional photographer meet you at the Virginia Theatre, and capture a special memory for the whole family!
The theatre's staff and volunteers are going all out this year to decorate the Mezzanine Lobby for the holidays. It makes a beautiful backdrop for your personalized greeting card or social media posting. We hope you'll join us!
Drop by or call the Virginia Theatre Box Office at 217-356-9063 to reserve your 15-minute slot . Please note that space is limited - 1 reservation per caller
.