LET THE LITTLE LIGHT SHINE (2022)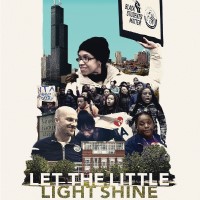 General Admission Tickets: $7


SAT, FEB 18, 2023

A special presentation of The Arthouse Experience Film Series.


Presented by
Illinois Public Media
, this exciting series brings the very best of recent art films and documentaries to the Virginia Theatre.


LET THE LITTLE LIGHT SHINE (2022)
Rated G
86 Min
Illinois Public Media and the Champaign Park District are proud to welcome
LET THE LITTLE LIGHT SHINE
director/producer KEVIN SHAW to the Virginia for this special Arthouse Experience Film Series screening, to include a Q&A session after the movie with Mr. Shaw and other distinguished guests.
In the documentary
LET THE LITTLE LIGHT SHINE
, a small but mighty group of parents, students, and educators mobilize to fight for The National Teachers Academy (NTA), a top-ranked Black elementary school facing threat of closure by way of transformation into a high school that caters to the neighborhood's newer, wealthier residents.
Bringing to life the famous Margaret Mead quote—"Never doubt that a small group of thoughtful, committed citizens can change the world; indeed, it's the only thing that ever has"—the film's story is a blueprint for community organizing as it follows everyday parents-turned organizers alongside NTA students and staff as they advocate to keep their school, a community safe-haven, intact.
For more:
Official Website:
https://www.lightshinefilm.com/
Official Facebook Page:
https://www.facebook.com/LightShineFilm/
Official Twitter:
https://mobile.twitter.com/lightshinedoc
Official Instagram:
https://www.instagram.com/light_shine_film/?hl=en
WILL/Illinois Public Media:
https://will.illinois.edu/
THE ARTHOUSE EXPERIENCE Film Series
Described as limited-release, high-quality titles that have captured the imagination of movie lovers, the Virginia Theatre's Arthouse Experience Film Series is programmed by special guest curator Sanford Hess.
The movies that Mr. Hess selects—a mix of award-winners, Ebertfest favorites, and recent classics—are presented one Wednesday each month on the Virginia's 52-foot wide movie screen, with state-of-the-art surround sound.
Each film will be followed by a post-show discussion and in some cases an on-stage talk by directors, producers, and other special guests. Presented by
Illinois Public Media
, home of WILL-TV, WILL-AM, and WILL-FM.
---

FACE MASKS OPTIONAL

In accordance with
guidance
from Governor JB Pritzker and the Illinois Department of Public Health, beginning February 28, 2022, the wearing of face masks is considered optional in Champaign Park District facilities, including the Virginia Theatre.
Patrons are still welcome to wear a face mask while at the Virginia, and the theatre will continue to provide complimentary masks to those who wish to wear them.
In response to the COVID-19 pandemic, the Champaign Park District has implemented the following mitigation practices at the Virginia Theatre in accordance with guidelines set by federal, state, and local public health authorities:
• Additional cleaning and disinfecting, with a focus on touch surfaces, door knobs and push plates, railings, auditorium seating, restroom facilities, and countertops.
• Touchless hand sanitizing stations are located throughout the Theatre's lobbies and work spaces for use by patrons, volunteers, staff, and production personnel.