PAT METHENY SIDE-EYE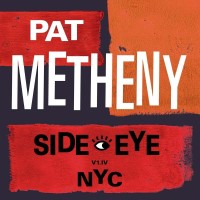 RESERVED SEATING TICKETS:


$49.50/$69.50/$79.50/$89.50


Plus a per-ticket processing fee of $5-$8



With over 100 concerts already played world-wide to accompany the release of Pat Metheny Side-Eye - NYC, more US dates have now been added for the summer of 2023, including the Virginia Theatre on June 16!
---
Unlike almost any other modern musician,
PAT METHENY
remains uniquely unpredictable.
A new Metheny record could be almost
anything
as the only musician to have won twelve of his twenty Grammy awards in twelve different categories.
His recent recording,
Road To The Sun,
caused a sensation in the classical music world for its intricate and emotionally satisfying chamber music compositions. At the same time, its immediate predecessor,
From This Place,
was
Downbeat
magazine's Jazz Record of the Year as an expansive and timeless large-scale work.
So the announcement of a new Metheny record is always a noteworthy event. Once again, a surprise is in store for the legions of fans Metheny has collected across the globe.
Pat Metheny Side-Eye - NYC
is an exciting, vibrant, and energized new platform for Mr. Metheny, showcased in a recording that features 30 minutes of intricate new music set alongside a few unexpected and creative re-workings of Metheny classics re-imagined.
Pat Metheny's versatility is nearly without peer on any instrument. Over the years, he has performed with artists as diverse as Steve Reich to Ornette Coleman to Herbie Hancock to Jim Hall to Milton Nascimento to David Bowie. Metheny's body of work includes compositions for solo
guitar, small ensembles, electric and acoustic instruments, large orchestras, and ballet pieces and
even the robotic instruments of his
Orchestrion
project, while always sidestepping the limits of
any one genre.
For more, visit:
Presented by
True Endeavors
and the
Champaign Park District
.
A VT SERIES EVENT
Hospice Hearts Animal Rescue
is an all-volunteer, foster-based animal rescue in Central Illinois, serving cats and dogs whose owners are no longer able to care for them due to owner illness, nursing home admission, or death. For more, visit
hospiceheartsanimalrescue.org
.