SYNECDOCHE, NEW YORK (2008)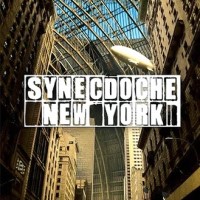 General Admission Tickets: $7


FRI, DEC 1, 2023

THE ARTHOUSE EXPERIENCE FILM SERIES

Presented by
Illinois Public Media
, this exciting series brings the very best of recent art films and documentaries to the Virginia Theatre.


SYNECDOCHE, NEW YORK (2008)
Rated R
124 Min
Life is looking pretty bleak for theater director Caden Cotard (Philip Seymour Hoffman). His wife and daughter have left him, his therapist is more interested in plugging her new book than helping him with his problems, and a strange disease is causing his body to shut down.
Caden leaves his home in Schenectady, New York, and heads to New York City, where he gathers a cast of actors and tells them to live their lives within the constructs of a mock-up of the city.
THE ARTHOUSE EXPERIENCE Film Series

Described as limited-release, high-quality titles that have captured the imagination of movie lovers, the Virginia Theatre's Arthouse Experience Film Series is programmed by special guest curator Sanford Hess.
The movies that Mr. Hess selects—a mix of award-winners, Ebertfest favorites, and recent classics—are presented one Friday each month on the Virginia's 52-foot wide movie screen, with state-of-the-art surround sound.
Each film will be followed by a post-show discussion and in some cases an on-stage talk by directors, producers, and other special guests. Presented by
Illinois Public Media
, home of WILL-TV, WILL-AM, and WILL-FM.