DINOSAUR WORLD LIVE!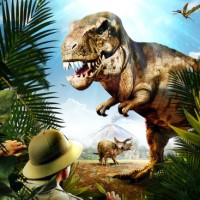 RESERVED SEATING TICKETS:


$19.50/$29.50/$39.50
Plus a per-ticket processing fee of $3-5

Please Note:
Children under 2
do not
require a ticket if they will be sitting on a parent or guardian's lap throughout the performance.
ALL OTHER CHILDREN, YOUTH, AND ADULTS MUST HAVE A FULL-PRICE TICKET.
WED, JAN 24, 2024

Dare to experience the dangers and delights of Dinosaur World Live! in this roarsome interactive show for the whole family.
Grab your compass and join our intrepid explorer across uncharted territories to discover a pre-historic world of astonishing (and
remarkably
life-like) dinosaurs.
Meet a host of impressive creatures, including every child's favourite flesh-eating giant, the Tyrannosaurus Rex, a Triceratops, Giraffatitan, Microraptor, and Segnosaurus!
A special meet-and-greet after the show (included with your ticket purchase) offers all our brave explorers the chance to make a new dinosaur friend.
Now an international smash hit,
Dinosaur World Live!
is back by popular demand following its hugely successful 2022 US tour.
Don't miss this entertaining and mind-expanding jurassic adventure, live on stage.
Buy now, before tickets become extinct!
Age guidance
: 3+
Run Time
: 50 mins + 15 min post-show meet & greet with the Dinosaurs
Presented by the Champaign Park District
For more, visit
:
https://dinosaurworldlive.com/
https://www.facebook.com/dinoworldlive/
https://twitter.com/dinoworldlive/
https://www.instagram.com/dinoworldlive/