HOLIDAY CARD PHOTO OP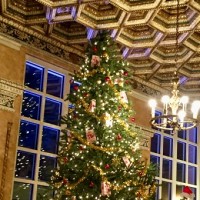 NOV 21, NOV 28, and NOV 30, 2023
5PM-7PM

We're opening up the Virginia's beautifully decorated Mezzanine Lobby for photographs this holiday season, free of charge!
Bring your favorite camera or arrange to have a professional photographer come with you to the Virginia Theatre, and capture a special memory for the whole family!
The theatre's staff and volunteers are going all out this year to decorate the Mezzanine Lobby for the holidays. It makes a beautiful backdrop for your personalized greeting card or social media posting. We hope you'll join us!
No time slots or reservations needed - event is first-come, first-served.
Please limit your photo session to 10 minutes.