IRRESPONSIBULL (2023)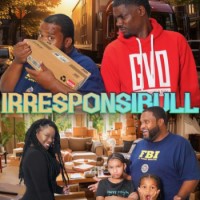 General Admission Tickets:


$20 Standard / $50 VIP
Plus a per-ticket processing fee of $2-$3


SAT, NOV 18, 2023

Rated: NR (Family-friendly)

Come see the World Premiere of Irresponsibull for one night only at Champaign's historic Virginia Theatre! Don't miss this chance to meet the cast and crew. 360-Motion photography available on site!
---
VIP TICKETS
Preferred VIP seating. Includes a free (limited issue) autographed poster and a picture taken with select stars from the film!
---

IRRESPONSIBULL (2023)
Allen is ready to settle down. Only his girlfriend Theresa doesn't think he's anywhere close to being responsible enough to start a family. When an unexpected opportunity arises for Allen to keep Theresa's nephew & niece (Brian and Britt) and prove his maturity, he jumps to it...without knowing these two kids are not your average youngsters.

Marcus is a low level scam artist that works for his uncle, the most "dangerous construction boss" in Chicago. He continues to screw up job after job and is desperate to show his uncle/boss that he can be responsible and counted on in the family business. The boss gives him just one more chance to prove himself.

Then, the most unlikely of events happens, causing a chance meeting of Allen and Marcus and starting a downward spiral like no other.

Can any of these men make it out and show that they are indeed NOT Irresponsibull?